VESTO Series offers modern and sophisticated design with an ergonomic bucket seat shape in order to provide aesthetic satisfaction and the highest comfort. Users can select from two combinations of chrome plating and black paint depending on the intended use of space which will add classy feel to the atmosphere.
Synchronized & Multi-limited tilting 5-level angle ranges are available for backrest and seat tilting according to the user's posture.
Backrest cover and bucket seat design Bucket seat shape and a backrest cover with tree pattern design provide comfortable attractive seating and aesthetic satisfaction.
CH5200Z High Back • Synchronized Tilt • Multi-limited Tilt • Easy Tilt Tension Adjustment • Height Adjustable Pneumatic Cylinder • Polished Aluminum Armframes and Base.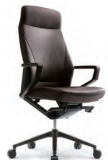 CH5200Z High Back • Synchronized Tilt • Multi-limited Tilt • Easy Tilt Tension Adjustment • Height Adjustable Pneumatic Cylinder • Black coating Armframes and Base
CH5201Z Mid Back • Synchronized Tilt • Multi-limited Tilt • Easy Tilt Tension Adjustment • Height Adjustable Pneumatic Cylinder • Polished Aluminum Armframes and Base
CH5201Z Mid Back • Synchronized Tilt • Multi-limited Tilt • Easy Tilt Tension Adjustment • Height Adjustable Pneumatic Cylinder • Black coating Armframes and Base
* Leather L096 + Black Armframes and Base